What could be better than creating an online course about the type of art you're an expert at or the type of art that you love?
If you're an artist, there's probably not much that could be more relaxing than that. The great news is that many people have already proven that you can make money teaching art online. It's just a matter of angling your course in a way that it will be profitable.
One woman is making well over $100,000 per year with a really successful painting course. It's simple too. I've also seen one for pencil drawing in the last couple weeks as of the time I'm writing this.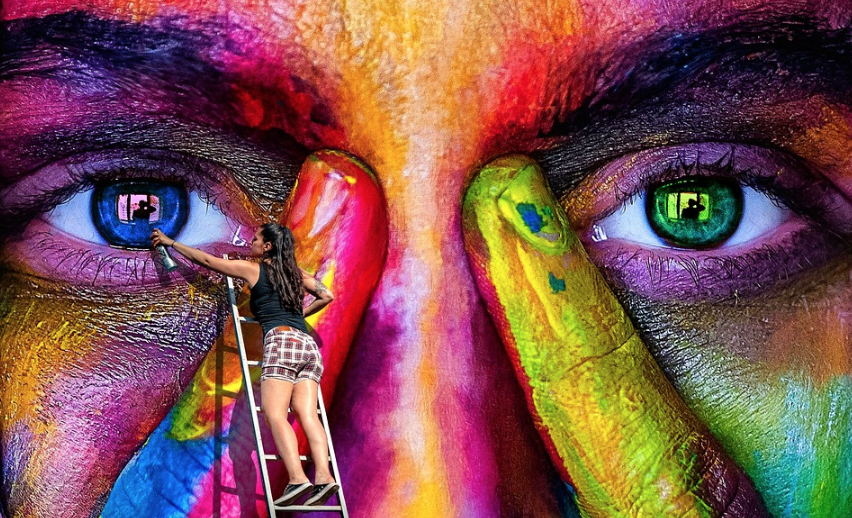 Once you create a successful art course that actually provides value to people you can enjoy the email notifications from $27 or $97 or $1,197 course signups as your students pile in.
If you're interested in teaching in this area it likely means that you love art. Personally, I don't think the average artist gets compensated or respected enough in modern society so I'm a big fan of trying to change the way that income flows in this area.
There are endless people that will pay for art and endless people that will pay to learn how to make art. You just need to follow a couple simple steps including the process of figuring out where your potential students hang out online.
If you're reading this article, I'd love for you to send me an email about the type of art you're considering as a candidate for an online course.
Overall, there are a few steps to ensure that an online art class will bring you profit, passive income and work-from-home capability:
Finding an online art course idea that will make money
The first step is to find a profitable idea for your first online course . Obviously, this idea is going to be art related, but what specifically is it going to be about? For example, if you focus on ring making, what type of ring making? What type of materials and what style and what process? The free training that the link above takes you to will go into more detail but this step involves finding and understanding where your potential audience hangs out online and what problems those people are having. For example, if you focus on making rings with coins, where do those people hang out online? What issues are they having that is preventing them from making coin jewellery? How big are the online communities that they hang out in? Are they Facebook groups? Are they subreddits? Are they websites? Forums?
Writing the online art course for your profitable idea and breaking it up into modules and lessons
The second step is you'll need to write your art course. This shouldn't be too hard for you as you're an artist and you understand the skill. After step one you should also have a general idea of what should be included in your course based on what people need help with. Depending on what your course is about and how much value it will provide to your students, you will decide on a scope or length and then break it down into modules and lessons. More often than not art courses are video-based but they could include things like downloadable workbooks or even one-on-one phone calls. Some of them even include quizzes or one-on-one video conferences. It depends on your course and the details like how much you are charging for it. Personally, I would recommend keeping your first course simple when you're writing it. By this I mean think about a simple video course and a couple downloadable PDFs or workbooks that complement the video content.
Physically making (filming, writing, getting the art supplies together, etc) the online course and deciding where to host it
The third step is you'll need to physically make the course. Common equipment for this would include a computer, a webcam (if there isn't a quality one built into your computer), necessary art supplies for your specific course and a teaching platform or website to host your course. Personally I think the easiest way to do this step is to sign up with a business like Teachable. There are many platforms that support online teaching but my argument for Teachable is pretty simple. I think they are great for hosting online courses but ALSO hosting a website. You can pay once and get a great website builder and course builder. They also offer blog capability, easy Google Analytics integration, built-in affiliate marketing and other important features that other platforms charge you separately for. You can always start on the free plan and upgrade to another plan when you feel like you need to.
Marketing the online course to potential students within the places they hang out online
The fourth step now that you have your online course built is to market the course. You found out where your audience hangs out online earlier in the process, and that's a great start. You can promote your course on your blog or Facebook page if you have one. You can run Facebook advertisements or Google Ads to get targeted traffic. You can join free forums such as Quora or Reddit and provide value to potential students before offering your course as a solution to their problems. You could promote the course in your local area at an art gallery or other related event where you can engage with people in person. This step will clearly depend on the details of your course and your specific situation. My recommendation is to keep it simple and while I do recommend paid advertising, I would probably start by providing free value where you can (forum comments, blog articles, etc.). Paid traffic works but natural traffic flowing to you that doesn't cost anything can be more sustainable in the long run.
Pricing the online in a course that will help you reach your financial goals
The fifth step is to price your course. People over think this step but it's important to understand that you can adjust the price at any stage if you need to. You also don't need to feel pressured to have a really expensive course if you want to make serious money. I interviewed someone recently who made $250,000 in one year selling a $49 course. It's simple math to see how much you'll need to charge in order to reach your goals, but the point is that it depends and you can always adjust your price up or down after launch.
Peter Buffington